In April 2017, Cinemaximiliaan moved to a large back house in the Manchesterstraat in the canal zone of Molenbeek. In a short time, this house has become the beating heart of the dynamics around Cinemaximiliaan. Volunteers and visitors spend the night around events, share meals and work together, people meet and collaborations take place. It also houses the office of Cinemaximiliaan, where the team assisted by many newcomers, volunteers, interns, are working behind the screens. 
In the project house musicians come together for rehearsals, people meet eachother to discuss projects, film screenings, small concerts or exhibitions can be held in a homely atmosphere. The house also transforms itself into a film set during the production of the short films.
The openness and inviting nature of our activities and projects makes Cinemaximiliaan not only a warm place but also a platform to support people with ideas and initiatives. Projects take place in the intimacy of a living and breathing house and create a unique experience in time and space.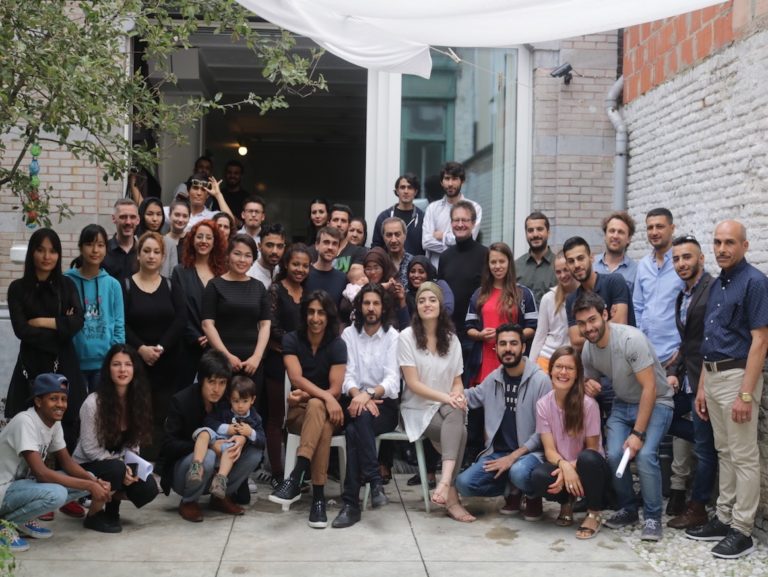 The social fragility of a new existence offers newcomers little support in building a future. At Cinemaximiliaan people can find a place where to be home, to regain strength, to be appreciated for who you are, creativity is awakened and the rich cultural background can blossom. 
In recent times the Manchesterstraat has undergone a profound transformation: not only Charleroi Danse, but also Recyclart, VK and Decoratelier have settled into the street. It seems that the neighborhood is transforming rapidly and becoming a cultural hub in Brussels, a dynamic for which we're very grateful. 
In 2019, after a long road in which many experts helped pro bono (Baker &McKenzie, D2Q, ARP), Cinemaximiliaan was able to convince three families to invest in the front house building, and the Brussels Region in the back house. Through this joint venture between private philanthropy and public subsidies, we were able to stay in the building at least until 2035 for a very low rent. In early 2020 renovations will start of the front house; supported by the Vlaamse Gemeenschap and the Vlaamse Gemeenschapscommissie. Office Kersten Geers & David Van Severen will sign for the plans on a pro-bono basis.
The house will offer living spaces, a social kitchen, a welcoming room, 8 guest rooms, 2 residencies, a multipurpose production space, post-production facilities, offices, project rooms, logistical spaces, bathrooms, a courtyard and a series of outdoor terraces.

The fact that the building is a real house, with the characteristics of a warm home, makes this location a unique, intimate home that can still welcome many people and stay in a close relationship to the neighborhood, to the city and to the world. 
During The Livingroom Cinemaximiliaan opens the project house each 2nd weekend of the month from Saturday morning until Sunday afternoon. Everyone is welcome: newcomers from remote asylum centres, volunteers, friends, people who want to get to know Cinemaximiliaan…
The Livingroom is a spontaneous and warm moment to spend time together. People can practice languages, give language classes, psychological support, participate in workshops, help each other out with administration, cook together, do sports, work in the garden, go for walks, visit exhibitions, etc… We keep the time open for personal encounter and exchange.
Check our Facebook page for updates on The Livingroom.
Hopefully opening it's doors in 2021, the Guesthouse wants on the one hand to offer a hospitable sleeping place to visitors of Cinemaximilian who often stay in reception centers outside the city and spend the night around events. On the other hand, the guesthouse is offered to artists, musicians, dancers, international guests who are temporarily in the country for projects in collaboration with one of our partners in the Brussels cultural life. By sharing this primary need (overnight stay and meal), artistic cross-fertilization spontaneously arises.


Everything will be run with and by newcomers and is open to guests from the Cinemaximiliaan community as well as guests of various partners in Brussels' cultural and social life. The combination of project house, meeting space, kitchen and guest rooms stimulates an integrated dynamic between various artistic, social and cultural activities of Cinemaximilaan itself and the exchange with cultural institutions and their actors, who are accommodated at Cinemaximiliaan as guests.